Monday, November 26, 2012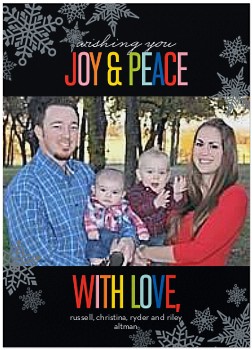 Colorful Joy Christmas Card

Posted by

ChristinaAltman
at 9:45 PM
No comments:

Wednesday, February 15, 2012
Hello all :)

This past Sunday was my birthday and it was great! Russell surprised me on Saturday night by taking me to the Renaissance Worthington Hotel in downtown Fort Worth. So much fun! Then on my birthday we had BBQ at Risky's in Sundance square with the family. Great birthday!

As for the kiddos, they are doing great too. Ryder has finally figured out that he can push up with his arms, and kind of does the backwards inch-worm thing when trying to get his arms and legs going at the same time. It shouldn't be long now before he figures it all out :) Then I'm in for some trouble! I got to listen to B2's heart beat on Monday and he/she is doing great so far. I scheduled my 20 week sonogram where we will learn what the sex is for March 12. Super excited about that! Seems like forever away tho.

At my appointment, the doctor told me that I need to quit nursing Ryder now :( She said that it can still cause contractions and that's not good for B2. It's okay tho because I have a bit of a stock saved up and he's been starting to get into more solid food recently too. He's been eating rice cereal with milk for a couple of weeks now and has been doing great with that. Just this week we gave him his first baby food. He loves it! He ate sweet potatoes Monday night and peas last night and today. There are some pretty messy pictures of that first experience too :)

Our little family is great and we are so blessed to have such a great life together.

Until next time!
Posted by

ChristinaAltman
at 5:23 PM
No comments:

Thursday, February 2, 2012
Wow! I can't believe it's already 2012 and my little Ryder is already over 5 months old! Last time I posted, he hadn't even arrived yet! Time sure does fly :)

So an update on the little stinker: He turned 5 months on January 26 and is just the cutest thing ever :) He was born on August 26, at 5:56pm, weighing in at 7lbs 7oz and 20 inches long. I was induced at around 9pm the night before and started getting some pretty serious contractions the next day. They got so bad that they weren't dying down before the next one came along, and Ryder was face up so I was getting hit with some pretty bad back labor. Russell was so great the whole time and helped me thru it until I couldn't handle it any more. I decide to go ahead and get the epidural, and it was smooth sailing from then on :)

Now our little boy is starting to coo and make the sweetest baby noises. He's discovered his feet and they're his new favorite toys. He's also almost getting the hang of starting to crawl or scoot. He can get his knees up under his tummy, but he's pretty much clueless as to what to do with his arms. His favorite thing to do is jump and he does it a LOT, even when he's not in his jumparoo. He can stand himself up if you hold onto his hands and I think he may walk before he crawls at this rate. His newest interest is anyone's nearby face. He will slowly reach toward your face and gently touch your eyes, nose and mouth. That may have something to do with the fact that he has been watching "Your Baby Can Read" for about a month now and those are part of the words on the first DVD.

We couldn't be happier with our new lives as parents, and are thrilled to announce that we get a chance at round two coming up later on this year! Baby #2 will arrive sometime around the end of July. Our official due date is July 28, but we will see when he or she decides to grace us with his or her presence :)

I will have to dig through my pictures and get some posted of Ryder and of our sono with the B2. But that's all for now!
Posted by

ChristinaAltman
at 1:04 PM
No comments: